COMMITTED TO SUSTAINABILITY AND PROTECTING THE REEF
Suncoast Gold Macadamias is proud to back Growcom's Hort360 Reef Certification Program. We would like to encourage all of our shareholders and suppliers to become accredited so that we can show our commitment to the sustainability of the Great Barrier Reef.
Early in 2022 we will be holding workshops to introduce the scheme to growers that aren't already accredited in order to make an easy transition to the best management practices required.
Environmental awareness and sustainability are becoming increasingly important in the horticulture and agriculture industries. At Suncoast Gold Macadamias we strive to minimise our impact on the environment both through our factory processes and by encouraging best practice by our valued suppliers. We feel that it is especially important because of our proximity to the beautiful but fragile Great Barrier Reef. This is why we wholeheartedly back the Hort360 Reef Certification program that is overseen by Growcom. This is a FREE program that is not limited to Growcom members and is funded by the Queensland Government' Reef Water Quality Program.
Currently, primary producers of Sugarcane, Grazing and Bananas are required to comply with industry specific minimum practice standards, including nutrient budgeting. Horticultural minimum standards are set to come into effect from 1 December 2024. Some of this regulation may be seen as constraining to these industries, if enough growers take on the Hort360 Reef Accreditation, imposed regulations may not be as harsh.
Michelle Haase from Growcom states, "We are confident that with continued efforts by growers to aim for best management practices, our industry will be in a position to meet Reef Certification standards to demonstrate stewardship towards the Reef."  She also says that the certification process isn't difficult, "Once we go through the questions of the Reef module in Hort360, the majority of growers see that they are already operating at or above best practice. If not, then we work out an action plan to assist that grower in lifting those practices so they can become Reef Certified," she said.
Why Participate?
The main reason to participate is so that we can strive to be the best stewards of our environment
If the macadamia industry can be seen to have taken on an efficient and stringent self-regulation then there will be less urgency by the Government to impose more severe rules
The Hort360 program is Government approved and so transition to imposed minimum standards should be seamless
The Reef Certification is encouraging best practice, efficiency and good record keeping which will ultimately improve farm productivity, quality and profitability.
There is a strong focus on food safety quality assurance and environment which are essential marketing facets that will continue to keep Australian Macadamias as the preferred choice for consumers around the world.
What's the Process?
Benchmark farm practices focusing on- nutrient, sediment, pesticide and water. For instance: soil and leaf testing practices, nutrient budgeting, decision making tools for irrigation, calibration records and management of topsoil.
Work through the certification requirements with a facilitator
Submit results to a third party auditor
An audit is required every 3 years (currently funded by Growcom's Hort360 GBR Program)
Growers outside the Reef catchment area are also welcome to gain the Hort360's other modules at no charge.
Further Information
If you require further information, please contact
Michelle Haase – Southern GBR
Email | mhaase@growcom.com.au
Mobile | 0428 586 890
More Info – Qld Government Reef Regulations
CHECK OUR EVENTS PAGE FOR UPCOMING GROWER WORKSHOPS
Grower workshops will be held in early 2022.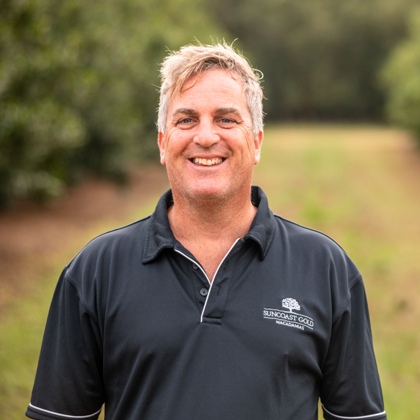 Paul Hibbert works closely with Suncoast Gold growers in his role as Grower Services Officer.  Based in Bundaberg, Australian largest macadamia growing region, Paul specialises in tree health and nutrition.
Contact Paul for more information
mobile 0419 209 466
email paul.hibbert@suncoastgold.com.au