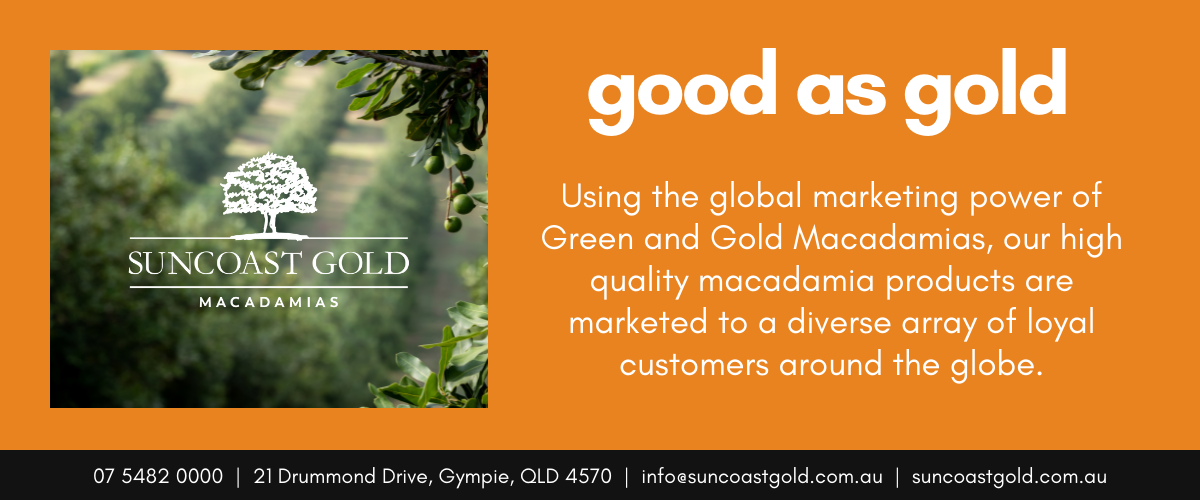 2022 nis offer 
COMING SOON
The true strength of the organisation is its shareholders and suppliers.  Suncoast Gold's ability to build long term customer relationships and develop new markets comes from strong and stable supply from our valued growers.  Suncoast Gold in turn guarantees to purchase NIS from those growers holding the required number of A-class shares and a share in the profits generated.
This unique partnership is what has driven Suncoast Gold for over 35 years and is setting us up for the future as we look forward to growth in the domestic and international industry.
Feb 2022 Shareholder and Supplier Update – 8/2/2022
WE SUPPORT THE VOLUNTARY MARKETING FUND (VMF)
The voluntary marketing fund (VMF) for the Australian macadamia industry aimed at capturing market opportunities to grow and diversify markets for macadamia, protecting grower incomes and farm gate prices, and leveraging marketing investment from other origins who contribute to the world macadamia crop. 
Suncoast Gold Macadamias is a supporter of the program and we have signed an agreement with the AMS to collect the levy from our suppliers on their behalf.
OPT IN NOW In this seasons NIS Offer we will be asking you to join the program by opting in.  Please tick the box in the Supply Agreement to OPT IN.  DOWNLOAD THE FLYER
At Suncoast Gold we have a history of paying a guaranteed and competitive price for Nut in Shell (NIS) and consistently reward our growers with bonuses for their efforts to supply high quality.
As one of the few grower-owned processors, our growers are our shareholders, they are truly 'invested' in our mutual success.   Loyal shareholders receive priority access to supply giving them incased market security for their crop, now and into the future.  The continued support from shareholders is crucial to the efficiency and profitability of the business which in turn benefits all.
All Growers of Macadamias in Australia are welcome to supply Suncoast Gold, you don't have to be a shareholder.  We have a unique site that allows us to receive deliveries of NIS from both large bulk trucks and small bins and vehicles, our minimum delivery is 500 kg.
We understand that growing macadamias is an intensive operation requiring significant investments in machinery and inputs, so we have a number of payment options to suit your needs.  Talk to us about up-front payments, short payment terms or plans that allow you to receive income across the whole year.
For full details and terms of supply please contact us to receive your copy of the supply documents
The main benefits of being a shareholder in Suncoast Gold Macadamias remains in the security of marketing your crop today, and into the future. You don't have to be a shareholder to supply Suncoast Gold but many of our loyal suppliers have chosen to become shareholders.  As a supplying shareholder you will get access to ongoing support from our Grower Services Team, voting rights, discounts on kernel purchases and much more.
We reward our shareholders with an offer of competitive prices for NIS and for many years we have rewarded our loyal shareholders with an annual shareholder supply bonus as determined by the Board, based on the performance of the business and market factors.
Suncoast Gold is 100% owned by growers so when we prosper, so do our growers.
2021
Shareholder Bonus for NIS delivered
@ 33% SKR and 10% MC

Base Price $5.00

Up to $0.30 Quality Bonus

No penalty for short terms payments

Freight Rebate paid within 30 days
2020
Shareholder Bonus for NIS delivered
@ 33% SKR and 10% MC

Base Price $6.00

Up to $0.30 Quality Bonus

Freight Rebate paid within 30 days

$0.20 / kg shareholder bonus paid
@ 33% SKR and 10% MC

Base Price $5.30

Up to $0.30 Quality Bonus

Freight Rebate paid within 30 days

$0.20 / kg Shareholder Bonus Paid
JOIN THE SUNCOAST GOLD GROWER NETWORK
Learn and Grow
Free grower workshops, support and information

Market Security
with global, experienced marketer Green & Gold Macadamias 
Networking
with industry's largest and most productive growers
Experience
 Owned by growers and processing macadamias for over 35 years
Convenience
Deliver NIS from all QLD and NSW growing regions
Want to know more about being a Macadamia grower?
Macadamia growers that are part of the Suncoast Gold family receive invites to grower networking events, and information about everything from planning to harvesting your first macadamia. Our suppliers receive regular newsletters and industry information and have access to free workshops and grower support services. Contact Grower Services via the form below to find out more.